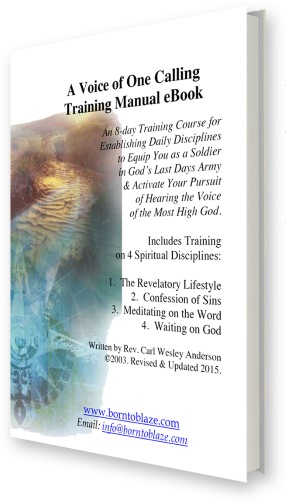 A Voice of One Calling eBook
(eBook, 66 pages)
Are you ready for the challenge of a new "basic training" course in God's army? Many people around the world have testified that after taking this simple, step-by-step, 4-Session training, they have increased their weekly connection and contact with God. You will find that God indeed is speaking every day.
He is waiting for you to listen and respond!
Inside this potent eBook, you will be led through a strong "basic training" program as a soldier in God's Last Days Army. You'll learn how to more clearly recognize God's Voice and both initiate and respond to His daily contact with you.
The 4 Sessions inside include teaching, scriptural examples and historical examples, and practical application in these 4 areas:
-The Revelatory Lifestyle
-Daily Repentance To Prepare to Hear from God
-The Discipline of Meditation on the Word of God
-The Discipline of Waiting Upon God
BONUS! This instant-download eBook also includes:
*Operational Briefings
*Sword-Sharpening Exercises
*Obstacle Courses to add Temperance & Faith
"After going through all 4 spiritual disciplines in this eBook, I began to realize that my connection with God was much stronger. I now have contact with God every week, and in various ways. I highly recommend it." –Pastoral reference