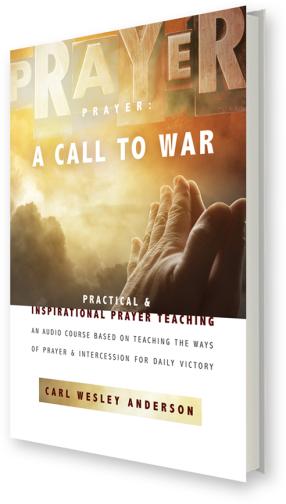 Prayer: A Call to War!
Practical & Inspirational Prayer Teaching
The Ways of Prayer & Intercession for Daily Victory
(Audio Course)
God wants to call forth His army of believers to function as fully trained soldiers of the cross, ready to go, do, give, and live according to His word.
Prayer is the key!
It is not enough to know you "ought" to pray every day. It is vital to know "how" to pray every day. Through listening to this anointed teaching on a fresh approach to prayer, you will both be trained and challenged to pray more and pray deeper, but you will also begin to live out the answers to your prayers.
And you will see the results in the lives of those whom you are praying and interceding for!
Learning how to pray more effectively and understanding your role as a soldier for Christ will equip you to live victoriously in the midst of any circumstance and to experience the fulfillment God intends for all His children.
4 Sessions:
1. The Conquering Kingdom of God: Priests & Kings in Daily Discipline
2. Prayer: The Supply Line of Communication & Prayer Resources
3. The Full Armor of God & Prayer as your Most Powerful Weapon
4. The Enemy's Tactics and How to Defeat Him
"Christianity thinks this is a civil war, a rebellion, and that we are living in a part of the universe occupied by the rebel. Enemy-occupied territory—that is what this world is. Christianity is the story of how the rightful king has landed, you might say landed in disguise, and is calling us all to take part in a great campaign of sabotage."
C.S. Lewis, Mere Christianity
"We live in a perpetual battlefield …The wars among the nations on earth are mere popgun affairs compared to the fierceness of battle in the spiritual unseen world. This invisible spiritual conflict is waged around us incessantly and unremittingly. Where the Lord works, Satan's forces hinder; where angel beings carry out divine directives, the devils rage. All this comes about because the powers of darkness press their counterattack to re-capture the ground held for the glory of God."
–Rev. Billy Graham
Intercession Changes History! Enjoy this amazing testimony from the life of Rees Howells. Prayer: A Call to War will help train you to intercede like Rees Howells did!
For Your Love Gift of $29 or More
Delivered right to your Inbox!
Instant Download of 4 Audio mp3 Sessions with Study Guide