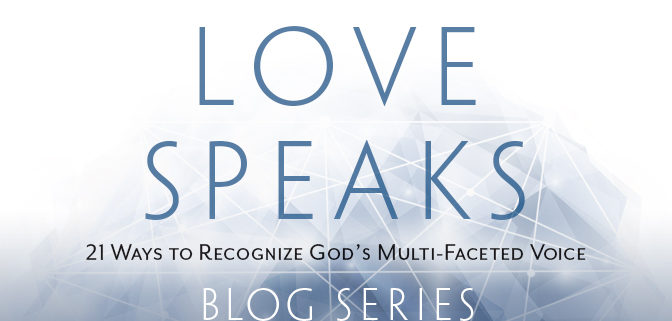 Love Speaks: Blog from Alan Langstaff
"Many years ago I realized that one of the most important skills a leader must develop is the ability to hear the voice of the Lord.
If you are not hearing God's voice, how can you lead the people who will be following you?
Since all of us (at least the majority of us) are leaders in various areas of our lives such as parents in the home, employees in the workplace, and leaders in the church, etc. we need to develop the ability to hear God's voice.
Recently, Carl Wesley Anderson, a former student of our Bible School, presented Dorothy and me with one of the first copies of a book he has just published entitled Love Speaks: 21 Ways to Recognize God's Multi-Faceted Voice.
Best-selling author Shawn Bolz wrote of the book,
"Love Speaks completely took me by surprise. I read books about hearing God all the time and am always encouraged, but they don't grip me the way 'Love Speaks' did."
I have long taught on the subject of hearing the voice of the Lord, for as I said, I believe it is an absolutely critical subject to study. As a result, I too was pleasantly surprised to find a fresh, unique and biblically based presentation written, as Carl puts it,
"For everyday followers of Jesus."
WHAT'S UNIQUE ABOUT THIS BOOK
What was so unique about Carl's presentation? Firstly, the way he differentiated between:
Seven very common ways the Lord speaks
Seven common ways the Lord speaks
Seven uncommon ways the Lord speaks
Often the emphasis starts the other way around with people being directed to what is sometimes the spectacular, yet uncommon, ways God communicates. This in turn can often discourage people from believing that God can speak to them, as they do not see themselves as able to reach that level.
Secondly, Carl breaks it down, identifying how each member of the Trinity has His way of communicating with people.
Included are chapters on the established Word and the living Word of Jesus, followed by three chapters on the inner witness of the Holy Spirit. Carl goes on to introduce us to the Father speaking through all creation and nature, through the oceans of His love and providential outward signs and circumstances.
I found it quite refreshing to see this subject presented in this way.
Lastly,
'Love Speaks' grips you as "Carl shares so many stories, along with some great illustrations of teaching that just help the reader connect to God's voice in a variety of ways. A picture is worth a thousand words, and there are so many word pictures in this book that will help you, the reader, advance in your journey of hearing God's voice." (Shawn Bolz)
COMMENDATION FOR THE BOOK
J.Lee Grady, the former editor of Charisma magazine, wrote the forward for this book, in which he begins by sharing his experience,
"When I was in my 20's, I was praying about whether I should enroll in graduate school. Then one morning in my devotional time, I came to Psalm 32:8 and it seemed to be flashing like a neon sign. It said, 'I will instruct you and teach you in the way which you should go.'

"The Holy Spirit was emphasizing to me that God would teach me and that I didn't need additional schooling. That's not to say graduate school is wrong for everyone else; it was just not God's plan for me at the time. And God used a Scripture to clearly show me what path I should take.

"The Bible promises that God will guide us. But many Christians find it difficult to hear God's voice. And in some charismatic churches, we complicate things when we try to make guidance mystical or weird – as if you have to hear an audible voice from heaven about what color shirt to wear. That is why I am so glad that my friend Carl Anderson has written this insightful book, Love Speaks.

"God's guidance should not be difficult for us if we truly know that our Heavenly Father loves us and wants to direct our lives."
By Rev. Alan Langstaff, Kairos Ministries
To get your own copy of LOVE SPEAKS, please visit our Official Love Speaks Website! http://www.LoveSpeaks.Today
https://borntoblaze.com/wp-content/uploads/LS-WordPressHeader.jpg
372
672
Carl
https://borntoblaze.com/wp-content/uploads/2015/05/BtoBLogo-Web-125-matt.png
Carl
2018-10-18 16:14:39
2018-10-23 12:32:29
Love Speaks: Blog from Alan Langstaff